The Molecular Biology and Genetics Laboratory (MBG Lab) has been accredited by Dubai Accreditation Centre (DAC) under the recognition of the International Laboratory Accreditation Cooperation (ILAC) to international standards; ISO15189:2012 and ISO17025:2005. This demonstrates our continuing commitment to achieve the highest quality service for our customers.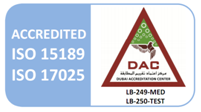 MBG Laboratory Accreditation Symbol.
Certificates and Scope

The MBG laboratory remains one of the most advanced genomic centres in the Middle East. With this accreditation achievement MBG is the only Laboratory in the region able to cater to the needs of both Medical Healthcare providers and Veterinary Clinics.
For a complete list of accredited assays please refer to the MBG Laboratory Service Lists under Customer Information.